Vous pouvez louer la salle paroissiale pour divers événements: événements familiaux, banquets, prélèvements de fonds, etc.
Pour plus de renseignements, pour céduler une visite ou pour réserver la salle, contactez-nous aujourd'hui!
The hall is available to parishioners and the general public for wedding socials, receptions, reunions, classes and family gatherings of all sorts.
Interested in using our facility for your event? Contact us today!
Salle Paroissiale de Lorette
Lorette Parish Hall
From Parish meetings, Sunday breakfasts, and Funeral luncheons to Wedding receptions, Bridal showers and Anniversaries.
A venue to socialize after Remembrance Day services and the annual Christmas parade.
A place for Senior exercise groups and Taekwondo.
The Lorette Parish Hall is an important part of the community.
Are you interested in using our facility for your event? Contact Us Today!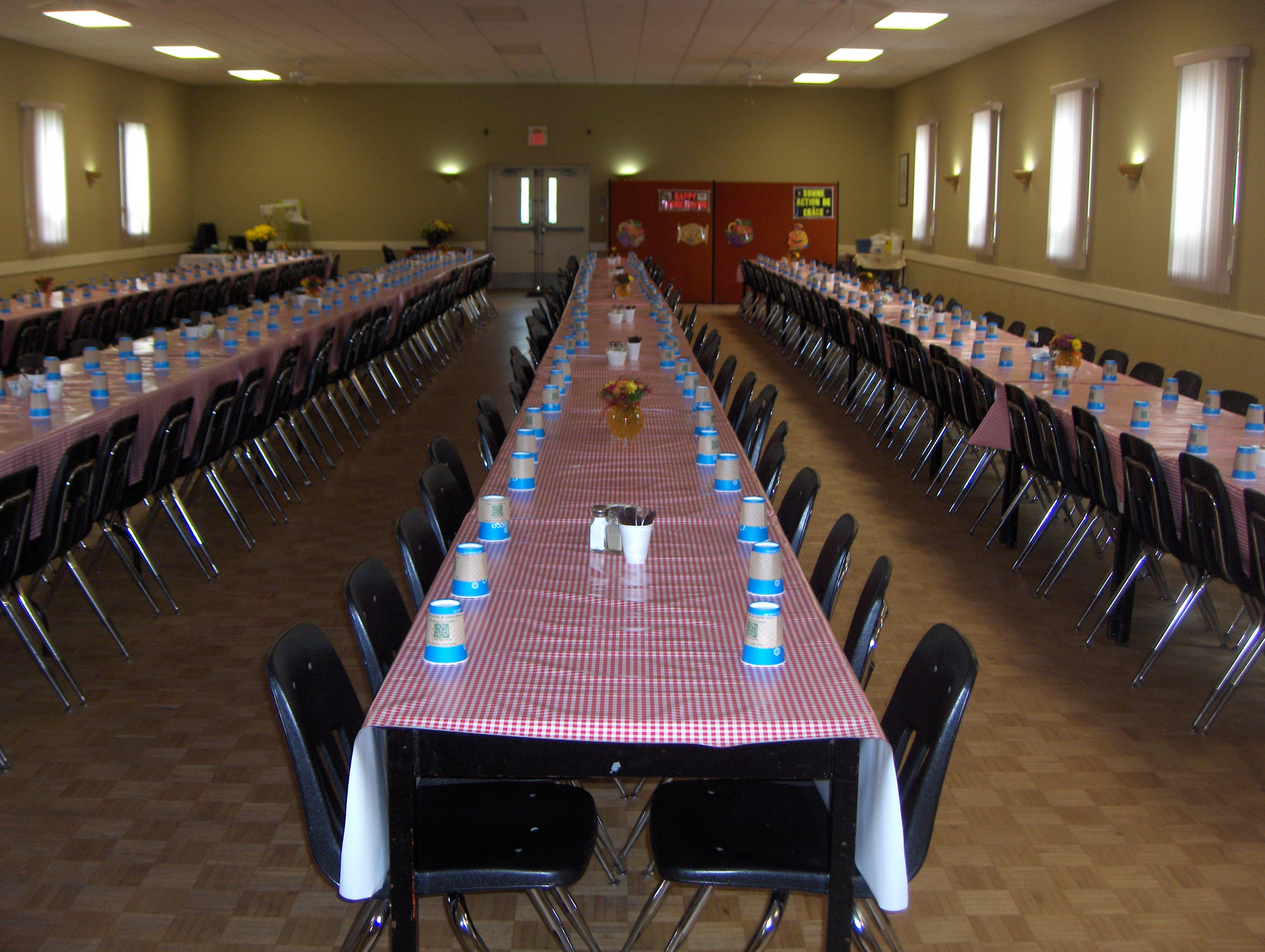 The hall will comfortably hold about 250 people seated at tables.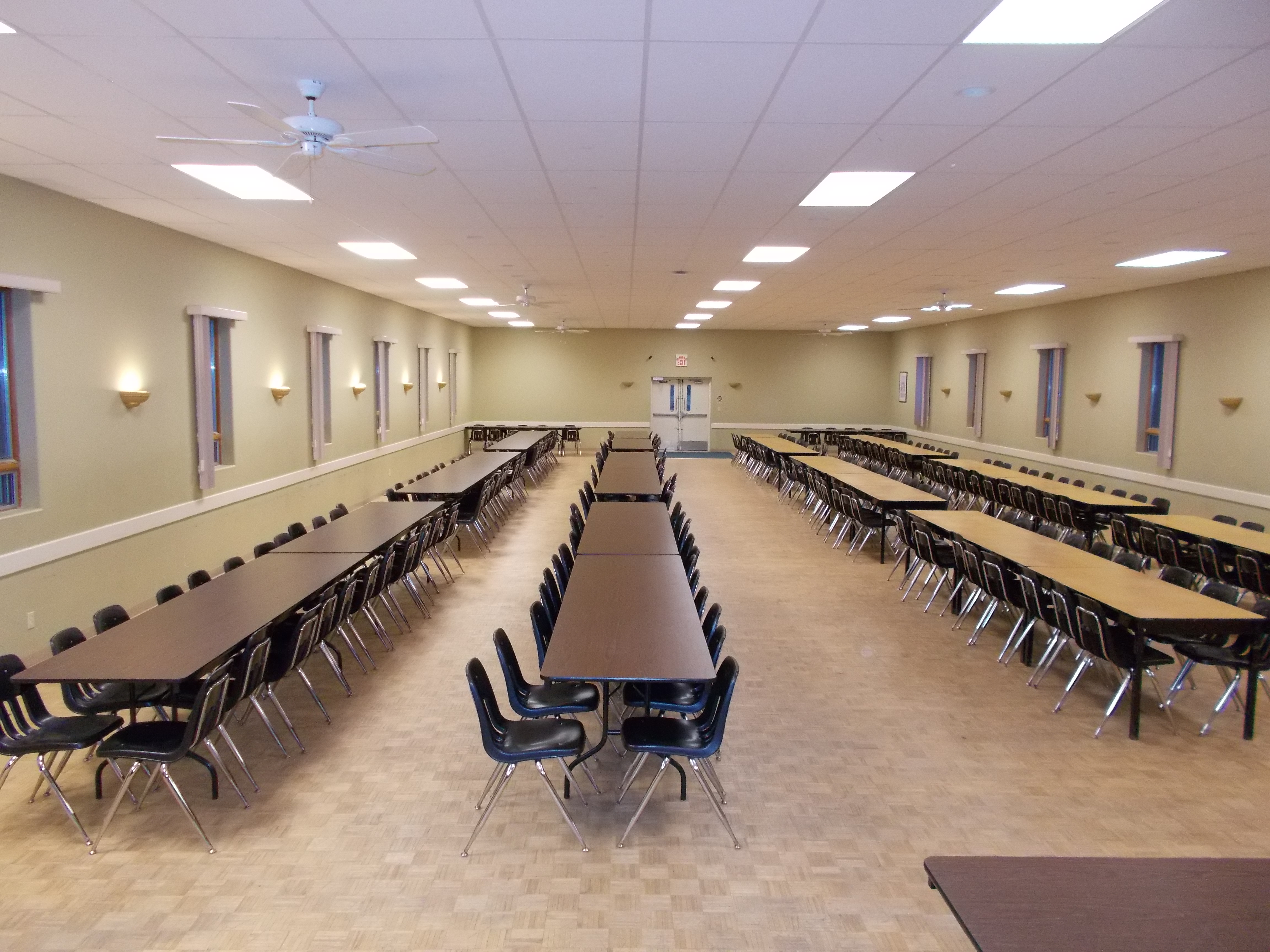 The main room of the hall itself is approximately 3400 square feet, not including the small stage area.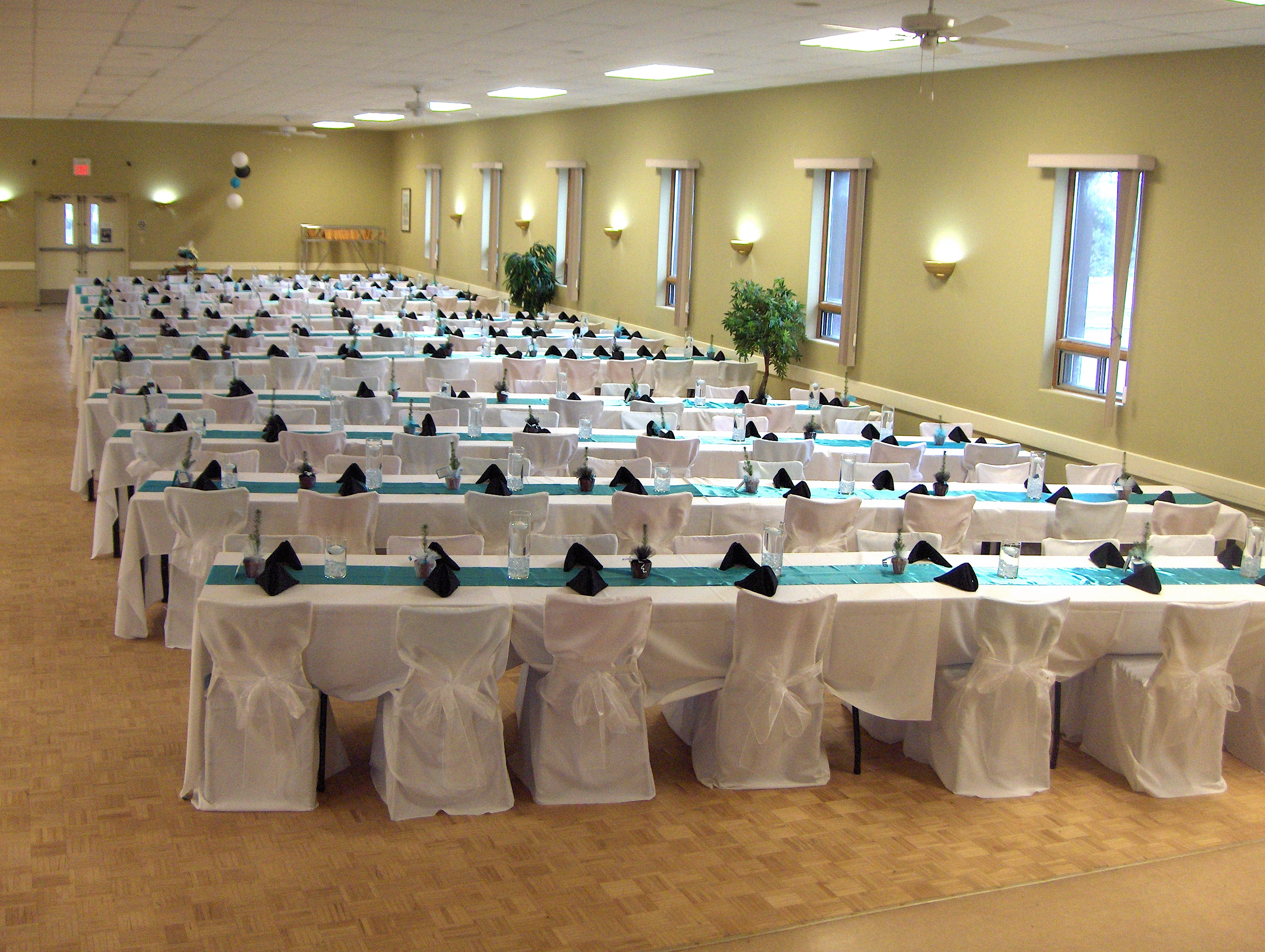 For wedding banquets and receptions the hall can accommodate approximately 150 guests.
KITCHEN
A 250 sq ft kitchen, with plenty of counter space as well as work tables.
There are two conventional kitchen ranges and a microwave oven.
We have 2 washing stations including a 2-sink station and a 3-sink station.
BAR
A 25 cubic foot commercial fridge and a 12 cubic foot freezer in the bar.
We also have a double-door beverage cooler with sliding glass doors.
The stage is about 10' by 9' and can accommodate a DJ or a small live band.
We have a PA system for meetings with ceiling mounted speakers.
There is also a 135" diagonal (108" wide) pull-down video screen in front of the stage for projector presentations.
Salle Paroissiale de Lorette
Lorette Parish Hall
Aux réunions paroissiales, les petits déjeuners du dimanche et les déjeuners funéraires jusqu'aux réceptions de mariage, un shower et aux anniversaires.
Un lieu de rencontre après les services du jour du Souvenir et le défilé annuel de Noël.
Une place où nos ainés font leurs exercices et nos jeunes le Taekwondo.
La salle paroissiale de Lorette est un lieu important de la communauté.
Vous êtes intéressé à utiliser notre salle pour votre événement ? Contactez-nous dès aujourd'hui !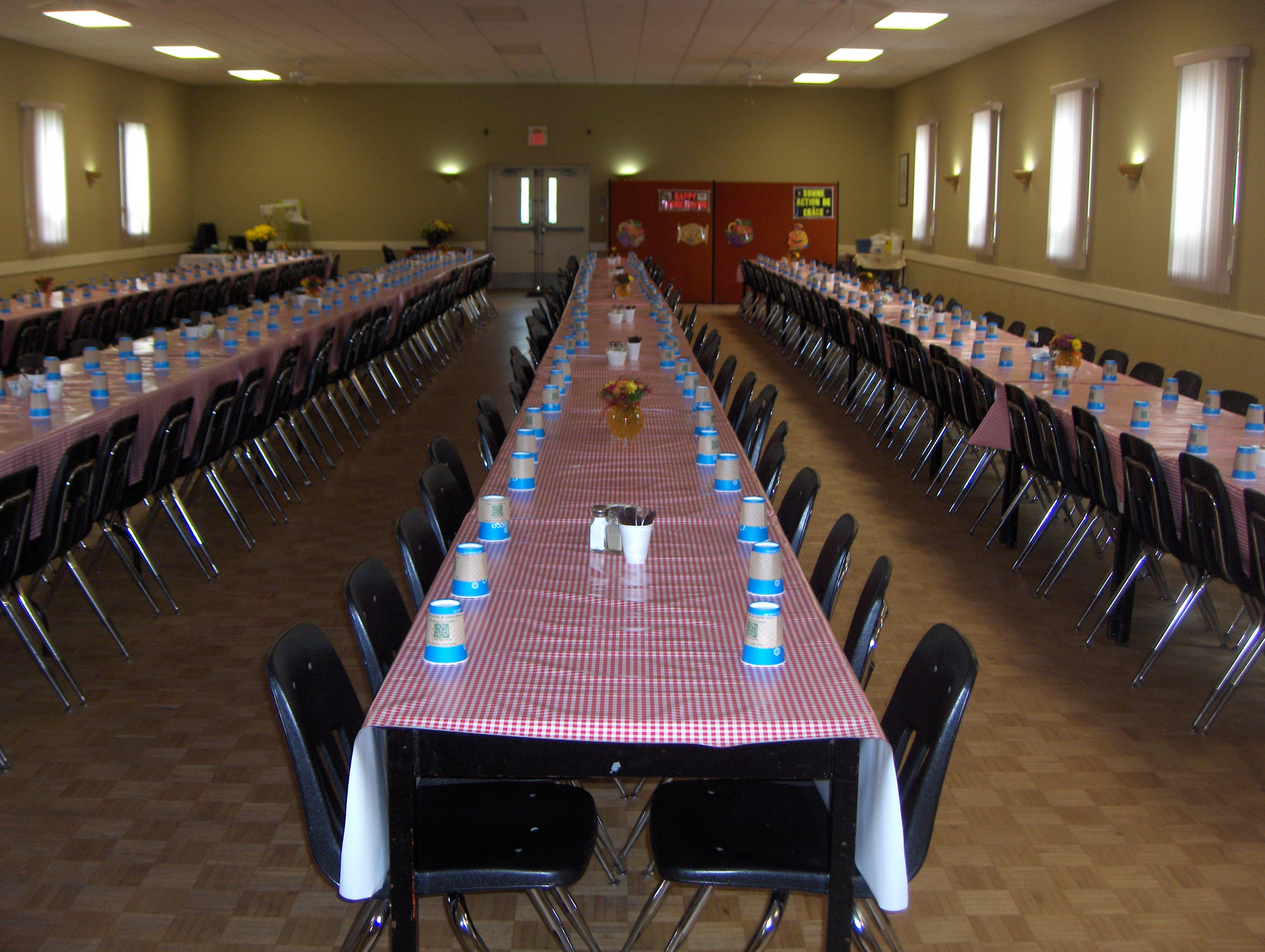 La salle pourra accueillir confortablement environ 250 personnes assises à table.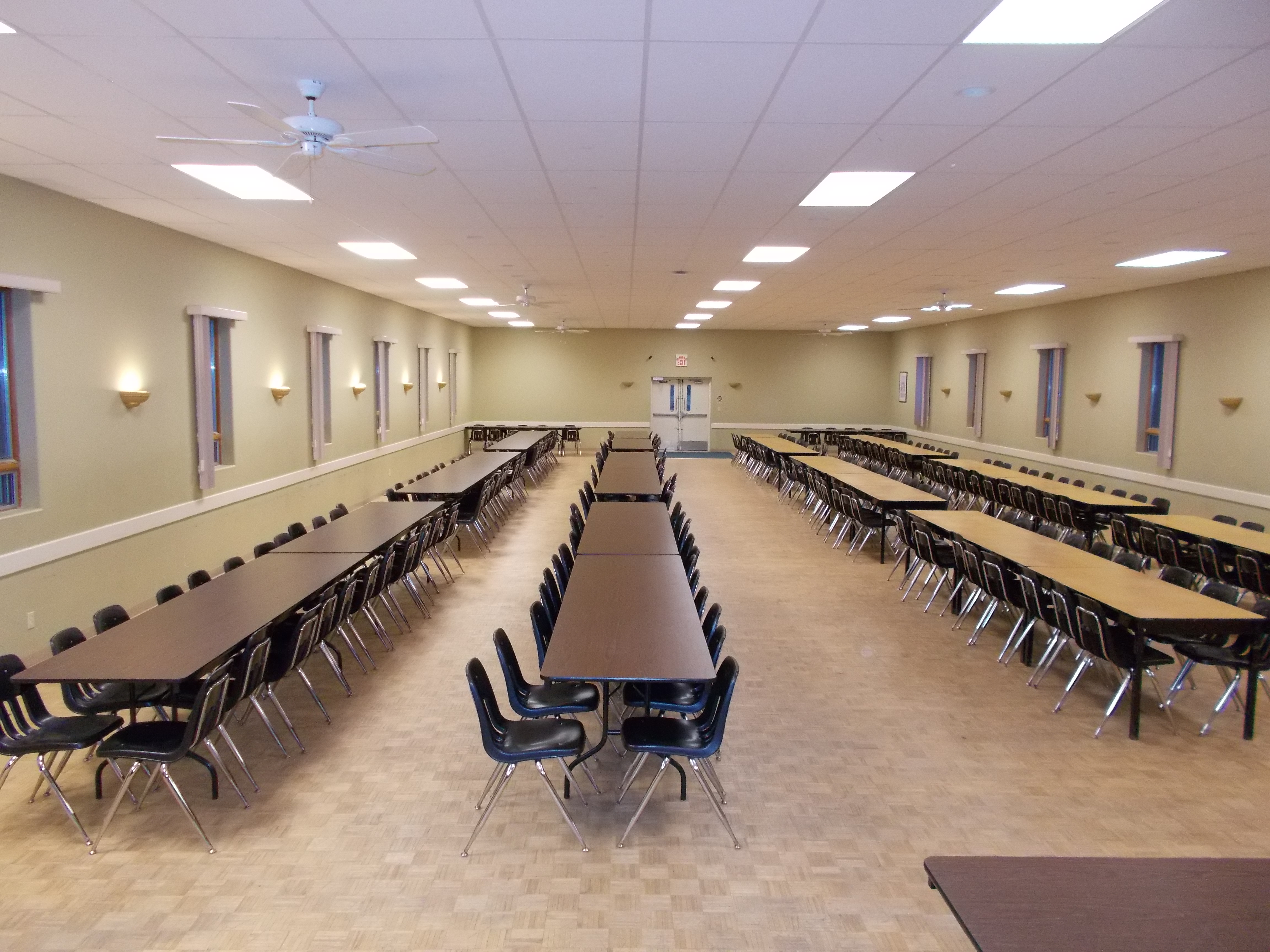 La salle principale de la salle est d'environ 3400 pieds carrés, sans compter la petite estrade.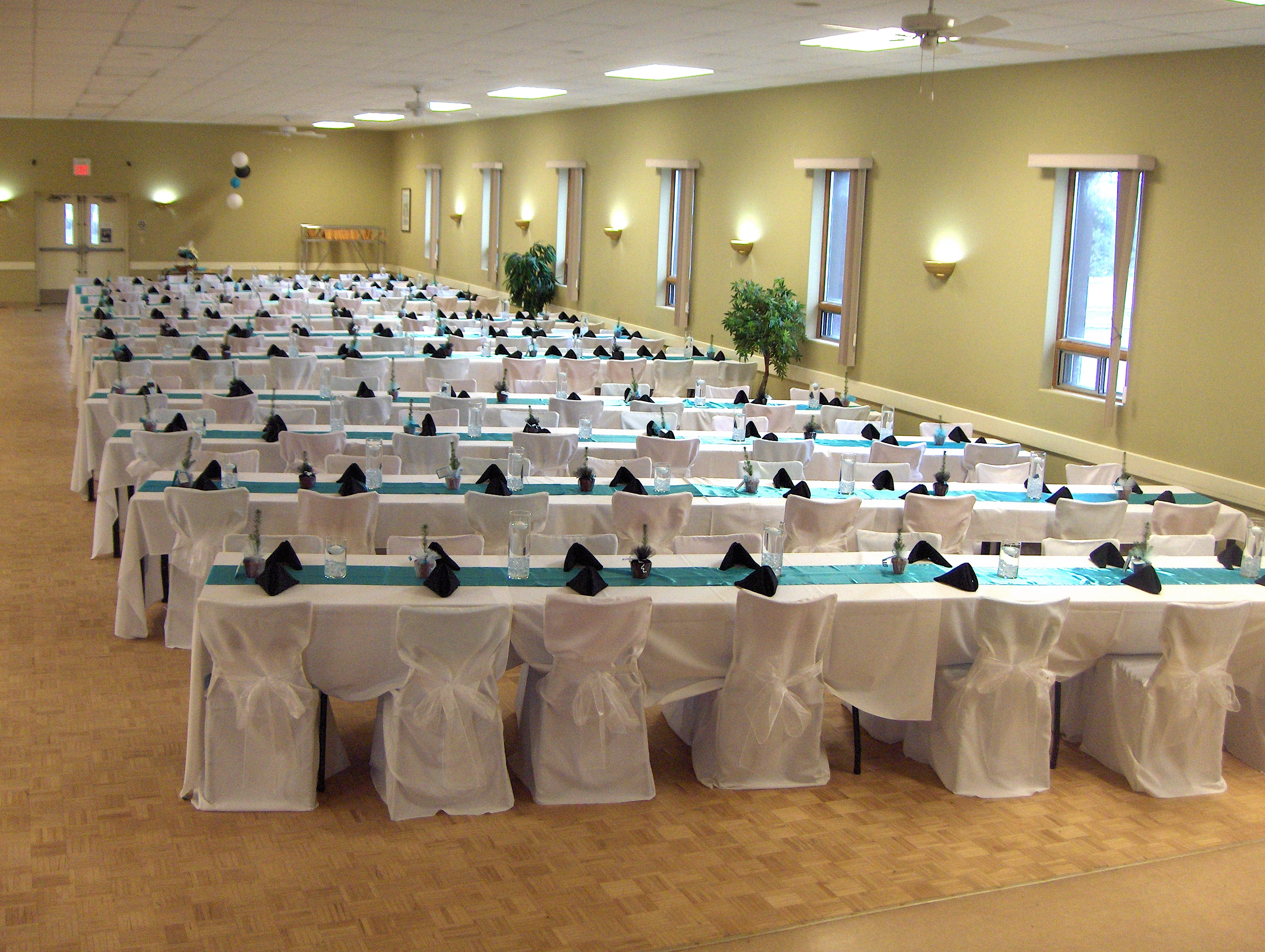 Pour les banquets et réceptions de mariage, la salle peut accueillir environ 150 invités.
CUISINE
Une cuisine de 250 pieds carrés, avec beaucoup d'espace de travail ainsi que des tables de travail.
Il y a deux cuisinières conventionnelles et un four à micro-ondes.
A votre dispositions, 2 stations de lavage dont une station à 2 éviers et une station à 3 éviers.
BAR
Un réfrigérateur commercial de 25 pieds cubes et un congélateur de 12 pieds cubes dans le bar.
Nous disposons également d'un refroidisseur de boissons à double porte avec portes coulissantes en verre.
L'estrade est d'environ 10 pieds par 9 pieds et peut accueillir un DJ ou un petit groupe de musique live. Nous avons un système de sonorisation pour les réunions avec haut-parleurs montés au plafond. Il y a aussi un écran vidéo déroulant de 135 pouces de diagonale (108 pouces de large) devant l'estrade pour les présentations du projecteur.