CIMETIÈRE DE LA PAROISSE DE NOTRE-DAME-DE-LORETTE
(English below)
La construction de la première église de Lorette a débuté en 1879 sous la direction de l'abbé Jules Guillaume Comminges. Il meurt subitement en 1884 à l'âge de 52 ans.  
L'abbé Joseph Basile Dufresne arrive en 1884 et supervise l'achèvement de l'église.  En 1896, il entreprend la construction d'une nouvelle église plus grande.  Cette église a été achevée en 1900 et est toujours utilisée aujourd'hui par la communauté catholique locale.
L'abbé Dufresne décède en 1922. L'Abbé Comminges et L'Abbé Dufresne sont enterrés dans le cimetière juste au nord du columbarium actuel. 
Sur la photo, le monument de gauche est pour L'Abbé Dufresne et le monument de droite est pour L'Abbé Comminges. Le columbarium est visible entre les deux monuments.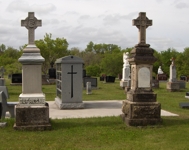 Transcriptions
En 1987,  Manitoba Genealogical Society a transcrit l'information provenant des monuments et des repères présents dans le cimetière à partir de cette année-là.  Cette transcription est toujours disponible au MSG sous forme de document dactylographié. Il est désigné Transcription #272 pour le cimetière catholique de Notre Dame de Lorette, connut comme :  Cimetière Notre Dame.  Veuillez noter que l'adresse physique est maintenant 1282, chemin Dawson (anciennement 474, chemin Dawson).  Comme la transcription du SGM date de 27 ans, elle ne contiendra pas l'histoire récente.  
Une base de données appelée MANI (pour Manitoba Name Index) est en cours d'élaboration. Elle comprendra un index des inscriptions des cimetières, des notices nécrologiques des journaux, des index des BMD de diverses publications et des index des livres d'histoire locale et d'autres publications diverses.  Vous devez être membre de la Manitoba Genealogical Society pour accéder à cette base de données.  Pour plus d'informations sur MANI mani.mbgenealogy.com ou visiter www.mbgenealogy.com 
Il ne semble pas y avoir actuellement d'effort planifié de la part d'une organisation pour mettre à jour le relevé de transcription du cimetière Notre-Dame-de-Lorette.
Richard Rumancik a entrepris de transcrire les inscriptions actuelles afin de fournir une ressource aux chercheurs en généalogie.  Si vous êtes au courant d'efforts parallèles, veuillez nous contacter.
Photos des monuments et des repères
Il y a quelques sites web qui ont des photos de monuments et des repères.  
BillionGraves.com a 393 images répertoriées.  Le site peut être un peu difficile à utiliser si vous ne vous inscrivez pas, et vous continuerez à recevoir des pop-ups demandant une adresse couriel.  Nous vous suggérons de vous rendre à la page d'accueil du site http://billiongraves.com et de vous inscrire avant d'essayer d'utiliser le site.  Une fois l'inscription terminée, vous pouvez cliquer sur l'onglet Recherche, puis sur l'onglet Recherche de cimetière.  Entrez "Notre–Dame de Lorette Parish" pour le nom du cimetière et il chargera ensuite les données pour le cimetière.  Sur cette page, il est possible d'effectuer des recherches sur les noms ou prénoms individuels. 
Notez qu'en vous inscrivant, vous recevrez des offres par courriel de l'organisation BillionGraves.
BillionGraves indique à tort que la ville est Taché, au Manitoba, plutôt que Lorette. De plus, l'adresse municipale indiquée est incorrecte (voir nos coordonnées ci-dessous).   
Un autre site avec un plus petit nombre de photos de monuments et de repères s'appelle GenWeb.  Il est difficile de trouver le lien avec le cimetière de Notre Dame de Lorette.  Le lien direct est  : geneofun.on.ca/cems/MB/MBTAC1390
Si vous faites des recherches en génétique et que vous ne pouvez pas venir à Lorette, nous pourrons peut-être vous aider si le temps le permet.  Communiquez avec Richard Rumancik pour de plus amples renseignements. 
Réparations et entretien
L'entretien du cimetière est un projet progressif.  Au cours de l'été 2014, de nombreux arbres ont été coupés de branches mortes.  Certains des monuments les plus anciens le long de la clôture étaient recouverts d'herbe et d'arbustes.  La plupart de tout cela a été nettoyé.  Nous continuons à niveler le terrain et nous réensemencerons l'herbe au besoin.  De plus, nous tenterons de redresser et de stabiliser les monuments selon les ressources disponibles.  Les réparations majeures des monuments et des fondations demeurent la responsabilité des familles concernées.
Location
L'église et le cimetière sont situés au 1282, chemin Dawson à Lorette, au Manitoba.  Notre adresse postale est 1282, chemin Dawson, Lorette (Manitoba) R5K 0T2.
Questions & Commentaires
Si vous avez des questions, des préoccupations ou des problèmes concernant le cimetière, veuillez communiquer avec Richard par courriel et votre contenu sera acheminé à la personne appropriée.
NOTRE-DAME-DE-LORETTE PARISH ROMAN CATHOLIC CEMETERY
The construction of the first church in Lorette was started in 1879 under the leadership of L'Abbé Jules Guillaume Comminges. He died suddenly in 1884 at age 52.  
L'Abbé Joseph Basile Dufresne arrived in 1884 and oversaw the completion of the church.  In 1896 he initiated construction of a new larger church.  This church was completed in 1900 and remains in use today by the local Roman Catholic community.
L'Abbé Dufresne passed away in 1922. Both L'Abbé Comminges and L'Abbé Dufresne are buried in the cemetery just north of the present columbarium.   
In the photo, the left monument is for L'Abbé Dufresne and the right monument is for L'Abbé Comminges. The columbarium is visible between the two monuments.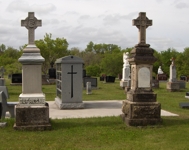 Transcriptions
In 1987 the Manitoba Genealogical Society transcribed the information from the monuments and markers present in the cemetery as of that year.  This transcription is still available from the MGS as a typewritten document. It is designated Transcription #272 for Notre Dame de Lorette Roman Catholic Cemetery, aka Lorette Notre Dame Cemetery.  Note that the physical address is now 1282 Dawson Road (formerly 474 Dawson Road).  As the MGS transcription is 27 years old it will not contain recent history.  
There is a database being developed called MANI (for Manitoba Name Index.) It will comprise of an index of cemetery inscriptions, obituaries from newspapers, indexes of BMD's from various publications, and indexes from local history books and  other miscellaneous publications.  You need a Manitoba Genealogical Society membership to access this database.  For more information about MANI enter mani.mbgenealogy.com in your browser. See www.mbgenealogy.com or further information about membership,  transcriptions and search tools.
There does not appear to be any currently planned effort by any organization to update the transcription record for Notre Dame de Lorette Cemetery.
Richard Rumancik has begun an effort to transcribe the current inscriptions so as to provide a resource to persons researching genealogy.  If you are aware of any parallel efforts, please contact us.
Photos of Monuments and Markers
There are a few websites that have some photos of monuments and markers.  BillionGraves.com has 393 images listed.  The site can be somewhat difficult to use if you do not register, as you will continue to get pop-ups requesting an email address, and will be unable to navigate properly.  It is suggested that you go to the home page at http://billiongraves.com and register before you try to use the site.  Once successfully registered, you can then click on the Search tab, then the Cemetery lookup tab.  Enter "Notre–Dame de Lorette Parish" for the cemetery name and it will then load the data for the cemetery.  At this point searches on individual names or surnames can be made. Note that by registering, you will receive email offers from the  BillionGraves organization.
BillionGraves incorrectly lists the town as being Taché, Manitoba instead of Lorette. Also, the street address shown is incorrect (see our address information below.)   
Another site with a smaller number of photos of monuments and markers is called GenWeb.  It can be difficult to find the link to the Notre Dame de Lorette Roman Catholic Cemetery.  The direct link is currently: geneofun.on.ca/cems/MB/MBTAC1390
If you are researching geneology and are unable to come to Lorette, we may be able to assist you as time permits.  Contact Richard Rumancik for further information.
Repairs and Maintenance
Maintenance of the cemetery is an ongoing project.  In the summer of 2014  there were many trees that were trimmed of dead branches.  Some of the older monuments along the fence were overgrown with grass and shrubs.  Most of this has been cleared away.  We are continuing to level the grounds and will reseed grass as needed.  In addition, we will attempt to straighten and stabilize monuments as resources permit.  Major repairs to monuments and foundations remain the responsibility of the families involved. 
Location
The physical location of the church and cemetery is 1282 Dawson Road in Lorette, Manitoba.  Our mailing address is 1282 Dawson Road, Lorette, (Manitoba) R5K 0T2
Feedback
If you have any questions, concerns, or issues regarding the cemetery please contact Richard by email and your content will be directed to the appropriate person.